The Official Journal: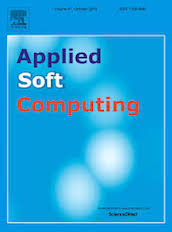 The Elsevier Applied Soft Computing Journal, the Official Journal of the World Federation on Soft Computing (WFSC), has become a premier publication in the area of Soft Computing Research and Applications.

For 2016, the Impact Factor is 3.541.
WSC Conference Books:
SOFT COMPUTING IN INDUSTRIAL APPLICATIONS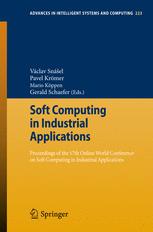 Proceedings of the 17th Online World Conference on Soft Computing in Industrial Applications

Edited by Václav Snášel, Pavel Krömer, Mario Köppen, Gerald Schaefer
Series: Advances in Intelligent Systems and Computing , Vol. 223
2014, XIV, 391 p. 130 illus.
ISBN: 978-3-319-00929-2 (Print)
978-3-319-00930-8 (Online)
DOI: 10.1007/978-3-319-00930-8.
SOFT COMPUTING IN INDUSTRIAL APPLICATIONS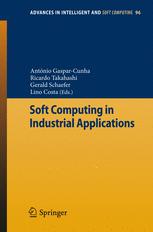 Edited by António Gaspar-Cunha, Ricardo Takahashi, Gerald Schaefer and Lino Costa
Series: Advances in Intelligent and Soft Computing , Vol. 96
On-line April 27, 2011,
ISBN: 978-3-642-20504-0
DOI: 10.1007/978-3-642-20505-7
SOFT COMPUTING IN INDUSTRIAL APPLICATIONS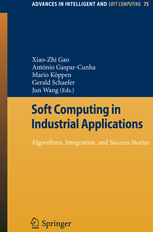 Algorithms, Integration, and Success Stories

Edited by Gao, X.Z.; Gaspar-Cunha, A.; Köppen, M.; Wang, J.; Schaefer, G.
Series: Advances in Intelligent and Soft Computing , Vol. 75
1st Edition., 2010, 300 p. 39 illus. in color., Softcover
ISBN: 978-3-642-11281-2
APPLICATIONS OF SOFT COMPUTING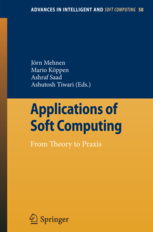 From Theory to Praxis

Edited by Mehnen, J.; Köppen, M.; Saad, A.; Tiwari, A.
Series: Advances in Intelligent and Soft Computing , Vol. 58
2009, XXXII, 536 p. 168 illus., Softcover
ISBN: 978-3-540-89618-0
APPLICATIONS OF SOFT COMPUTING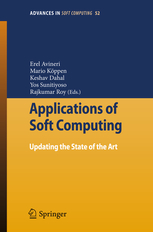 Updating the State of the Art

Edited by Avineri, E.; Köppen, M.; Dahal, K.; Sunitiyoso, Y.; Roy, R.
Series: Advances in Intelligent and Soft Computing , Vol. 52
2009, XXVI, 274 p. 117 illus., Softcover
ISBN: 978-3-540-88078-3
SOFT COMPUTING IN INDUSTRIAL APPLICATIONS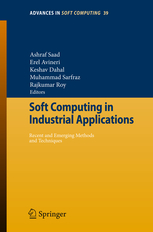 Recent and Emerging Methods

Edited by Saad, A.; Avineri, E.; Dahal, K.; Sarfraz, M.; Roy, R.
Series: Advances in Soft Computing , Vol. 39
2007, 328p., Softcover
ISBN: 978-3-540-70704-2
APPLICATIONS OF SOFT COMPUTING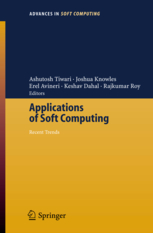 Recent Trends


Edited by Ashutosh Tiwari, Joshua Knowles, Erel Avineri, Keshav Dahal, Rajkumar Roy
Series: Advances in Soft Computing
2006, 420 p., Softcover
ISBN: 3-540-29123-7
APPLIED SOFT COMPUTING TECHNOLOGIES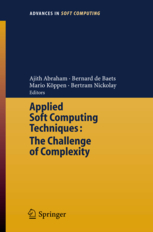 The Challenge of Complexity


Edited by Ajith Abraham, Bernard de Baets, Mario Köppen, Bertram Nickolay
Series: Advances in Soft Computing
2006, 840 p. 324 illus., Softcover
ISBN: 3-540-31649-3
SOFT COMPUTING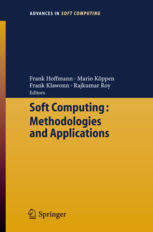 Methodologies and Applications


Edited by Frank Hoffmann, Mario Köppen, Frank Klawonn, Rajkumar Roy
2005, 338 p. 114 illus., Softcover
ISBN: 3-540-25726-8
ADVANCES IN SOFT COMPUTING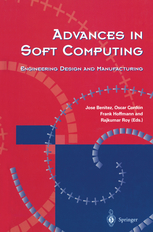 Engineering Design and Manufacturing


Edited by Jose M. Benitez, Oscar Cordon, Frank Hoffmann, Rajkumar Roy
2003, Approx. 400 p. 135 illus., Softcover
ISBN: 1-85233-755-9
SOFT COMPUTING AND INDUSTRY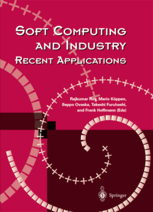 Recent Applications


Edited by Rajkumar Roy, Mario Köppen, Seppo J. Ovaska, Takeshi Furuhashi, Frank Hoffmann
ISBN: 1-85233-539-4
The publishers:
SPRINGER

ELSEVIER SCIENCE